Last Year I was presented a fantastic material.
It was a piece of a wall, to be precise a fragment of the paint which covered the wall for the last decade or more. This massive layer of paint contains a sector of hundrends of graffiti paintings. Like sediments full of history and stories…
Although making jewellery was the aim of the workshop, I took a different path. For me, naturally, I had to pay homage to the origin. Therefore I carved out a graffiti style, highlighting the source material, making a graffiti out of graffiti paint(ed) graffities.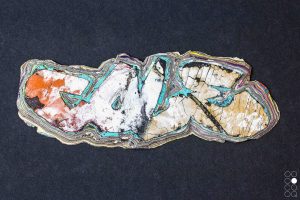 This can be seen as an excursion in an experimental phase. I'd like returning to this possibility eventually.
Shout out to Opty for the inspiration!