Meta is one of the rare Street Artists in my city who's work is absolutely original. He inittiated a spontaneous project, after finding a book with pictures of trains in a pile of rubbish on the streets. He forwarded all of the countless fantastic images of real and model trains to many of his Graffiti and Street Art colleagues. I was lucky to be able to pick a train from the book and the SNCF Jouef BB 26000 locomotive immediately caught my attention with the vision of a brick-ified version. The project sat on my desk for about two years before recently I managed to make my version.
I concentrated on the basic shape, the color scheme and some distinct details. As just copying something in existence does not attract me, I decided to implement two twists. First of all I wanted to break the train while keeping the shape. Secondary I included my alias into the sides of the trains, referring to Graffiti and the expression bombing a train.
[Best_Wordpress_Gallery id="327″ gal_title="PG_Metatrain"]
The blueprint (Original image courtesy to Bernard Canet / Jouef)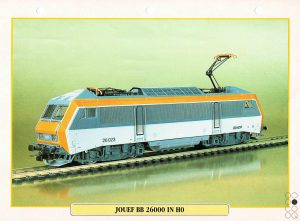 And a WIP shot of the sketch and the forged side wall.