Your support from the previous project, the Alakuneda Think Tank, encouraged me to make a brick-i-fied rendition of the Jigabachi seen at the Ghost in the Shell S.A.C. II animated series alongside the building instructions.
Type: Assault helicopter
Class: aerial robotics weapons platform, semi autonomous pilot/AI controlled
Estimated real life size: TBD
Manufacturer: Kenbishi Industries
Weapons:
retractable minigun
2 independently controlled machine guns at the front
2 attachable rocket launchers with 4 rockets each
2 attachable grenade launchers with 8 batteries each
The model features
an openable cockpit including an AI controlling array
retractable landing gear
fully retractable abdomen with minigun
the head and the abdomen have seperated articluation joints
moveable rotorblade
de/attachable weapons under the winglets
a stand
[Best_Wordpress_Gallery id="248″ gal_title="GitS_Jigabachi"]
– Instructions –
The model, including the stand, contains of 789 parts. All parts should be widespread available, no rare parts as far as I can oversee.
The 59-paged high-quality instructions are for sale and available on demand, just shoot me a [mail].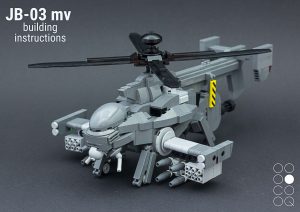 And a little peak into the process and the quality you can expect.