One of the larger projects I am currently working on is reshooting the Enter the Brick series.
This includes better shots and new perspectives alongside staged and edited photographies.
---
For starters here is the Punk Funk disco edit: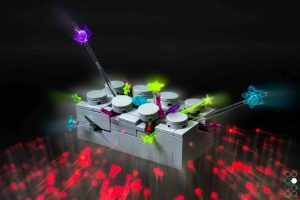 Notes on the image processing
The backdrop was glossy black cardboard. The lighting was a mix of tabletop lamps and a colour change mood lamp with glass-fibre optics.  For this image I made two photos, one with and one without the fibre-optics. While shooting the one with the glass-fibre optics I played with the focus of the camera lense, creating a blurry effect falling into the center. Then after some post processing the two pictures were merged into the above shown final image.