After days of labour (much more than I thought) my newest project is finished.
I have been working on the building instructions of my interpretation of the famous 6-legged Think Tank robot from Ghost in the Shell's climatic showdown. Now available for sale for anyone who wants to build their own version. It's on demand, just shoot me a [mail].
Changes to the prior version have been made in order to replace all custom parts by 'normal' parts.
The instructions also contain alternative versions of parts where rare parts have been used.
Making instructions is quite some work if done manually. Considering the building steps like preparing all the images, editing them, creating and editing the parts list, concept and layout of the design and much more is a big project. Despite the labour, it was a great experience and helped me develop skills for other projects to come.
FYI: Any reward from this project will directly flow into the next projects.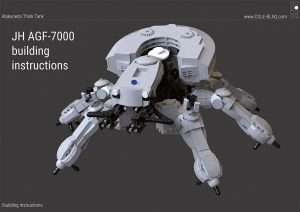 – Gallery 2017 edit –
[Best_Wordpress_Gallery id="50″ gal_title="JH AGF-7000″]
Featured at TBB: Ghost in the Shell's intimidating Fuchikoma
A great rendition accompanied by a unique custom paint job and a fantastic presentation from Ray Leung can be found here.
---
Sidenote: The best minicsale Alakuneda up-to-date is the Version by Sasapon IMO