There is going to be a new adaption of Ghost in the Shell coming to the big screen soon. The original film is one of my most favourite movies ever. Even though I was skeptical at the beginning when I heard that Hollywood is making a remake with real actors, now I am excited and totally looking forward to the show. The combination of Scarlett Johansson and WETA Workshop covers half the bill 😀
With the new movie on the brink and because this is one of my most popular models so far, I've been heavily working on a new refined version of the Alakuneda T08A2 [2012 edit], or known as R3000. This is the 6-legged mech which Major Kusanagi fights in the final battle scene. It really is a masterwork of cinema concept design.
I have created a new refined version with all custom parts being replaced by standard parts so it can be rebuilt by anyone. Most changes have been made to the head, while keeping the design as close to the prior version as possible.
It's already digitally rendered, I'm only waiting for some new parts to arrive so I have the built updated version at hand and can make some fresh photos then. The new parts will give the Alakuneda a great polish.
The update also means that I am actually making building instructions. Now there is a beta version available, but soon I will have professional instructions at hand. They will be for sale for anyone interested. Preorders / beta versions can be obtained now. The final version shouldn't take too long as I am actually at it with full throttle.
So here you go.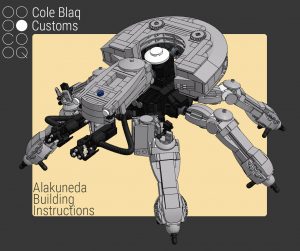 I hope you like it. More to come soon…
– Gallery 2012 edit –
[Best_Wordpress_Gallery id="49″ gal_title="GitS_Alakuneda"]
The first version back in 2012 has been featured at
Gizmodo: Ghost in the Shell's Think Tanks Are Intimidating, Even in LEGO Form
TBB: Cole Blaq's LEGO Tank from Ghost in the Shell
Tomopop: Cole Blaq builds a Ghost in the Shell tank from Legos
Disclaimer: The Alakuneda is my interpretation. Copyright of the original source material of course owned by Shirow / Oshii.